The Acknowledgement Report is accessed from the Reports Window, Project Management, Order Tracking folder, and shows order tracking information by listing each Component that qualifies for a variety of ranges.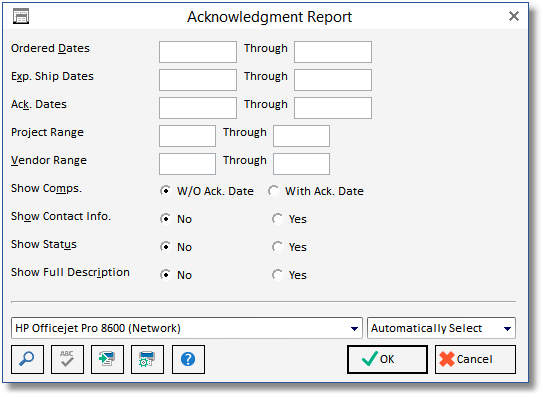 This report can be printed for a range of ordered dates, expected ship dates, acknowledgement dates, as well as for a range of Project and Vendor codes. Components can be shown that either have an acknowledgement date or that do not have an acknowledgement date by selecting from the Show Components (Show Comps.) choices. You may also choose to show contact information (Vendor phone number and contact), status / notes, or the full Component descriptions for each Component.
The Acknowledgement report shows ordered Components that have either been acknowledged or not acknowledged by the Vendor. The Components are listed in Reference Number order within a given Project. In general, this report is used to determine which Vendors have notified you that they have received your Purchase Order. To record a Purchase Order as acknowledged, highlight the PO on the Documents and Accounting Window, click the Status button and fill in the Acknowledgement Date and Number.