Individual Invoices may be created for individual orders, just as they can for a given project, which is explained in Client Invoicing listed beneath Accounts Receivable.
Batch Client Invoices can be generated for open orders by clicking the Invoice… button. This launches the Invoice Orders window.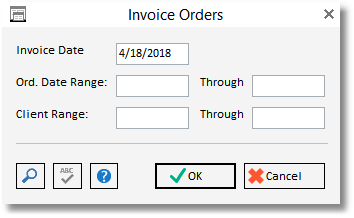 The Invoice Date prints on the Invoice document and defaults to the current date but can changed as needed.
Design Manager will generate an Invoice for all orders within the specified Order Date Range and Client Range. If these ranges are left blank, Design Manager will create an Invoice for each open order. Upon clicking the OK button, the Invoices will be generated for the desired orders and the Client Invoice window will be displayed allowing the user to review and, in needed, adjust the new Invoices. When an Invoice from an order has been printed and posted, the order will have the Invoice Number and Invoice recorded and will be closed if the Company Order Closed By setting is designated as "Client Invoice".