Design Manager maintains some basic information about your company that needs to be entered into the Company Information Window, as shown below, prior to using the software. The Company Information Window will automatically be displayed the first time you use Design Manager. The window can then be accessed from the File menu during future usage. Select Company Settings from the drop down menu.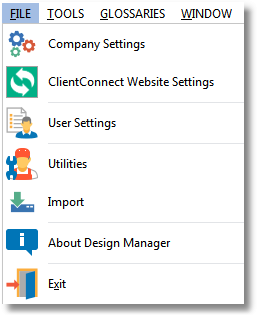 The Company Tab is used to record the Name, Address, City, State, Zip, Phone, Fax, E-mail, Website, and Tax (Employer) Identification Number. Some of the information such as the E-mail and Website can be left blank, if desired. This information will be used on documents and reports to identify your company.
On the Company Information window is an Advanced…
button which displays the Company Advanced Options Window for configuring many of the operational parameters used by Design Manager. For a detailed description, see the Company Advanced Options Window under Additional Features.
The Update Projects...
button is used to reconfigure all Projects, or particular Projects, within Design Manager to reflect changes in the Company Advanced Options Window. For more information on using the Update Projects utility, see the Update Projects Window under Additional Features.