The Design Manager Professional Showroom Module was designed to allow the user to manage custom merchandise orders for clients who do not currently have an active project. The Showroom Module affords the user an interface to generate a quote, purchase from the vendor, and, ultimately, invoice the client. The integrated Point of Sale system requires the client to either have an active project or pay for the merchandise immediately and does not allow the user to generate purchase orders for unique merchandise.
Watch it in action! View our Webinar on the Showroom module here: https://www.youtube.com/watch?v=hqryzQ0a_CM&noredirect=1
How does the Showroom System work?
When using the Showroom Module, the user first generates a quote. The quote is used to input the necessary billing, shipping, and associated client information, very similar to how a project is created. Once the quote is completed, the user can input the particular goods and services the client is interested in purchasing. Creating specifications in the Showroom Module mirrors entering specifications for a project. After inputting the specifications, the quote can be printed and sent to client for review and, if necessary, to request a deposit from the client. Quotes can be revised to reflect changes in a specification's cost, additional purchases for the client, or any other situation that may arise. After any revisions have been incorporated and the client gives their final approval on the quote, the quote can be processed into an order acknowledgement. One should note that if approval from the client is not necessary, orders can be created without first being generated as a quote and converted to an order. Once the quote has been accepted as an order, the user can generate delivery tickets for the merchandise and, upon delivery and fulfillment of the order, invoice the client for final payment.
Getting Started with the Showroom Module
To access the Showroom Module, click the Showroom - Quotes and Orders to launch the Quotes and Orders window.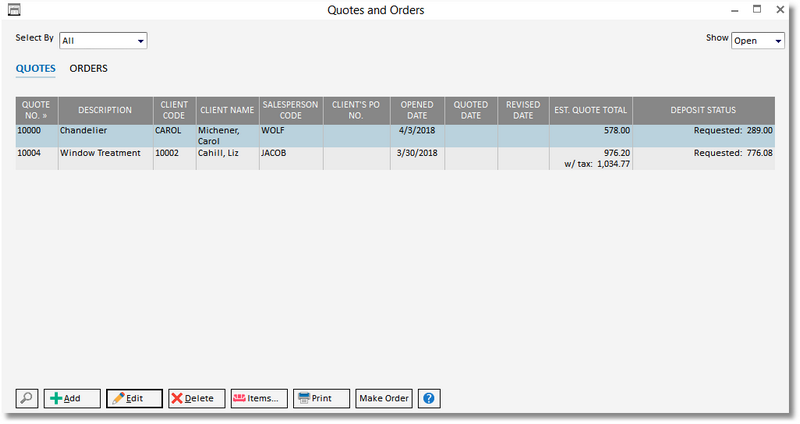 The window will appear with a listing of all active quotes displayed in quote number order. The user can filter the quote listing to show only quotes for a particular client or salesperson by choosing the appropriate entry on the Select By box located in the top, left-hand corner of the window. Further, the user can choose to display closed or both open and closed quotes by making the appropriate selection on the Show box in the top, right-hand corner of the window.