ClientConnect is an Additional Module you can add to your Design Manager program for an additional monthly charge.
It is a great tool available to keep you connected to your clients at all times. You can give a client access to View, Print and Pay* their Proposals and Invoices right from the Internet. There are also Status Reports that allow the client to view up-to-date information on their Project Items all while in the comfort of their own home.
*You MUST sign up with our merchant services company to take payments over the web site. Payments made online will be sent back and will update your Design Manager software accordingly.
For more information on ClientConnect and Merchant Warehouse call our Sales Department at (800) 836-2999 or
E-mail: sales@designmanager.com
With ClientConnect getting paid is easy! See our Demo Video of ClientConnect here.
Getting Started with ClientConnect - watch our video here.
After adding the Client Connect Module – you will need to setup your new account.
Log into Design Manager and go to File – ClientConnect Website Settings.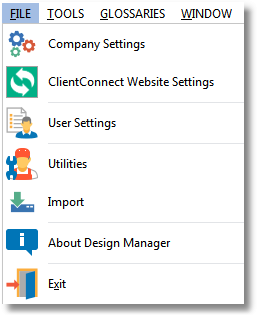 The following window will appear:
Here you will need to enter the Site Name given to you by Design Manager.
*Be sure to type the Site Name in EXACTLY as it is given to you. Choose OK.
This will take you to the ClientConnect Settings-General Tab
After the first setup of your ClientConnect account is completed each time you log into Design Manager you will see the following update message (if you have not updated within the last 24 hours):
To Update immediately, choose OK. (Other users MAY continue to access Design Manager during an Update; however, any NON-accepted changes/information will not upload)
You may choose Cancel and update the Site either the next time you log into Design Manager, or manually while in the Design Manager program already.
Once Updated the following window will appear.
Click OK to continue into Design Manager as normal.
To Update later go back into File – ClientConnect Website Settings – General Tab and Choose Update when you are ready to update.
For information on how the ClientConnect website is viewed by your Client (the website user), see ClientConnect - Website Users View.