The Tool Bar is located at the top of the main Design Manager window. The buttons and drop down menus provide access to every function and window in Design Manager. The top row contains five headings: File, Tools, Glossaries, Window, and Help each with its own drop-down menu. Click on the heading to view the menu, and then click on your selection to open the corresponding window for that function.
The five drop down menus are listed below.
File: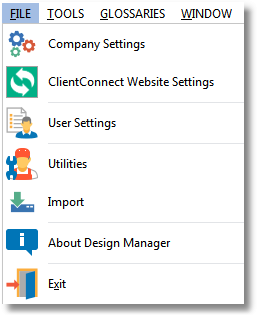 Company Settings: Opens the Company Information Window.
ClientConnect Website Settings: Opens the Client Connect-General Window. *ClientConnect is an Additional module option that must be purchased.
User Settings: Displays the User Settings Window to configure default e-mail message, Outlook folder locations, etc. for a given user.
Utilities: Opens the Utilities Window (to do backups, repair the database, etc.).
Import: Displays the File Import Feature.
About Design Manager: Opens the About Design Manager Cloud Window where information on the software version, serial number, etc. is displayed.

Exit: Closes the Design Manager program.
Tools: This drop down menu contains all of the functions on the default Tool Bar which is described below.
Projects and Specifications: Main window for all Project information and the creating and editing of Items and Components.
Employee Time: A user-friendly interface for quickly recording and maintaining Time Sheets for multiple managers and designers.
Documents and Accounting (Project View, Vendor View, or Journal Entries and Miscellaneous Cash Receipts View): Main window for entering all accounting transactions.
Pay Bills and Checkbook (optional with Accounting module): Printing, recording, and reconciling checks and credit cards.
Reports: Displays the Reports window.
Tasks and Appointments: Opens the To Do List Tasks and Appointments Window.
Address Book: Displays the Address Book.
Glossaries: Select from the following ten Glossaries which are explained in full under Glossary Windows:
Accounts
Clients
Employees
Locations
Remarks
Sales Categories
Sales Tax Codes
Ship To Codes
Time Billing Activities
Vendors and Payees
Window:
Clicking the Window menu will display each open window within Design Manager so that a particular window can be selected and brought the foreground.
Help:
Context Sensitive (F1): Brings up help for the window in the foreground.

Knowledge Base: Opens the Design Manager Help Center and Knowledge Base in a web browser.
Contact Support: Opens the Design Manager Help Center - Contact Us page in a web browser.
Remote Support: Opens the Logmein123.com website for when you are on the phone with a Design Manager Technician and they need to connect to your computer with you. Connection requires a 6 digit code that will be provided by the technician.